The artist Angelika Biber has been bringing her creativity to canvas in abstract acrylic paintings for many years. Her pictures convey both lightness and dynamism. In doing so, the graphic artist and designer manages the difficult balancing act between spontaneous, intuitive action and a planned approach , the composition.
In her seminars, Angelika Biber supports the participants in finding their own images and conveys the basics of composition without understanding them as rigid rules. Now, after numerous successful books that first appeared in the English and later in the Christophorus Verlag, she has now made the decision to make her thoughts on composition accessible to even more people. The result is an ebookthat can easily rival any printed book!
Composition, as she writes in the foreword, mostly sounds "more like theoretical knowledge and rigid rules than playful, pleasurable, free painting."
That both are not mutually exclusive and how composition can rather serve as a supporting framework for the implementation of the individual picture statement , she explains with many examples. 
With numerous step-by-step developments of a work as well as serial work sequences, this book is a practical aid for more exciting pictures !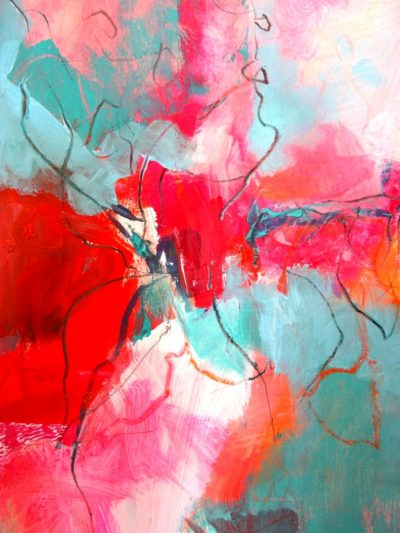 Tension in the picture
In clearly structured chapters, Angelika Biber explains the essential aspects that bring tension and dynamism into a picture, e.g. B.
the choice of format

the effect of colors and the different contrasts

the relationship between point, line and area

Proportions and arrangements
Composition and experimental painting
In order to create the basis for the application of her compositional considerations, Angelika Biber first briefly shows the basic techniques of acrylic painting. After that, however, she places much greater emphasis on a relaxed, individual style of painting and on free experimentation. 
Trying out, discarding, painting over are part of the creative process, during which the picture is gradually created and can also be changed again.
"With a few simple steps, the focus can be shifted, new lines of sight are created or the contrasts increased so that the tension increases. The picture will be more expressive and central points of view will emerge. "
Playful and spontaneous
In doing so – and this is very important to Angelika Biber – you don't need to have a certain result in mind in advance. Rather, creativity flows better when you play with colors and shapes . The picture can then be gradually sorted until it is consistent.
In the course of time, once you have internalized the essential basics of the composition, you use them intuitively. Because spontaneous painting, with freer expression and ease, is the goal.
This book is a win for everyone – experienced artists as well as beginners – who want to understand how and why a picture works and how you can apply this knowledge in your own pictures. And who do not want to work through an extensive theoretical work for this, but want to explore the essential aspects in a manageable and clearly structured way!